2015 Shepherds Mark 11.11 Case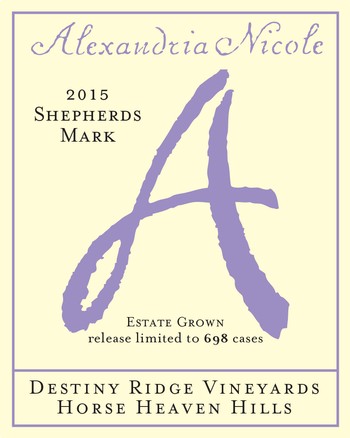 Online Orders are only available for pick up on Nov 17th & 18th. All wines will be shipped on Nov 20th.
In the early 1900's, pioneering Sheepherders left their mark on the Horse Heaven Hills in the form of rock monuments. Many still stand along the ridge line of our Estate Vineyard, Destiny Ridge Vineyard. Shepherds Mark has been our signature white wine since we began with a classic blend of Rhone white varietals. This Roussanne-based blend offers colorful, floral-accented orchard fruit scents and flavors and it has lush, expansive stone fruit character and a bracing citrus quality that allows it to work well with richer fish or poultry dishes and heavy cream sauces. The winemaking team at Alexandria Nicole Cellars were the first to produce this exotic blend using Roussanne, Marsanne, and Viognier in Washington State and have done so annually since 2004. Complex and balanced to age for at least a few more years.
Product Reviews
Barb & Blayne Bucy
(Nov 25, 2017 at 4:37 PM)
Absolutely the best white wine we've ever tasted. Filled with elegant flavors.
John Bruemmer
(Nov 26, 2017 at 5:12 PM)
Love Shepards Mark wine. It arrived early.