| Sun | Mon | Tue | Wed | Thu | Fri | Sat |
| --- | --- | --- | --- | --- | --- | --- |
| 28 | 29 | 30 | 31 | 1 | 2 | 3 |
| 4 | 5 | 6 | 7 | 8 | 9 | 10 |
| 11 | 12 | 13 | 14 | 15 | 16 | 17 |
| 18 | 19 | 20 | 21 | 22 | 23 | 24 |
| 25 | 26 | 27 | 28 | 29 | 30 | 1 |
Featured Wine Club Member Events
August 2017
2017 Harvest Party
4:00 PM to 8:00 PM
Sat, Aug 26, 2017
Venue:
Destiny Ridge Vineyard

At our annual Harvest Party, we will be offering a wine tasting experience that includes specially paired wine bites and an array of engaging events in which you can to participate in or be amused by. Following this would be a fantastic steak and lobster dinner and live music that we are hoping will inspire you to kick up your heels and ring in the harvest with all of us at Alexandria Nicole Cellars.
This event is exclusive to our Wine Club Members.
Tickets are now available! Click HERE to purchase!
Highlighted Events for All
July 2017
Vineyard Tour & Tasting
1:00 PM to 2:30 PM
Sun, Jul 2, 2017
Venue:
Destiny Ridge Vineyard

Plan to spend a relaxing afternoon in vine country. The tour will begin at 1pm on July 2nd and we'll be trekking through the dirt so please throw bring your walking shoes.
Spaces are limited. Reservations required.
$20 ticket price for non members | $10 for Members (use code "WCTour")
Purchase your Tickets HERE
158422 W. Sonova Rd.
Paterson, WA 99345
June 2018
2018 Mediterranean Wine Cruise
Wed, Jun 6, 2018 - Sat, Jun 16, 2018
Venue:
Barcelona to Lisbon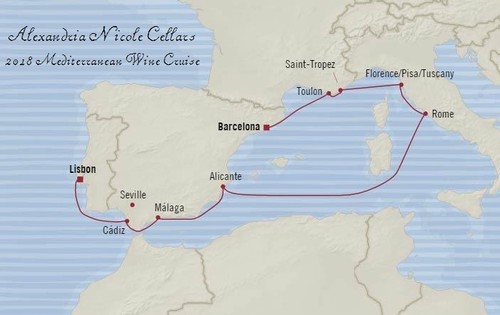 We are excited to announce Alexandria Nicole Cellars is partnering with Oceania Cruise Line for a spectacular 10-day wine cruise from Barcelona to Lisbon, June 6-16, 2018. Come join us and experience European history along with wine tasting, parties, and exclusive wine dinners. For information or to book your cruise please call 1.877.651.7447 or email WineClub@CruiseShipCenters.com.
For full details, click HERE