To book events or request a quote for any of our locations please complete our Event Inquiry Form.
April 2020
2020 Blending Competition & Winemaker Dinner
11:00 AM to 5:30 PM
Sat, Apr 25, 2020
Venue:
Destiny Ridge Vineyard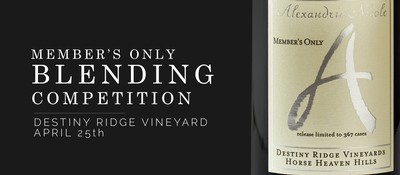 SOLD OUT
"Feeling Lucky"?
2020 Member's Only Blending Competition
Take a gamble alongside your fellow Club Members in finding the perfect blend for our next Member' s Only Red Blend. A fun and not so serious competition - we give you the tools and you make the blend! You could be ANC's next blending champion!
As the big winner, you receive 1 case of the 2018 Member's Only Blend and your name immortalized on every bottle of Members Only and bragging rights for the next year!
Included in this year's event will be the transportation to and from the event in a Luxury Motorcoach, Blending Competition, followed by a delicious seated dinner and awards celebration with our winemaker, Jarrod Boyle.
~Club Members Only~
Purchase tickets HERE
| Sun | Mon | Tue | Wed | Thu | Fri | Sat |
| --- | --- | --- | --- | --- | --- | --- |
| 29 | 30 | 31 | 1 | 2 | 3 | 4 |
| 5 | 6 | 7 | 8 | 9 | 10 | 11 |
| 12 | 13 | 14 | 15 | 16 | 17 | 18 |
| 19 | 20 | 21 | 22 | 23 | 24 | 25 |
| 26 | 27 | 28 | 29 | 30 | 1 | 2 |