Verjus Glazed Carrots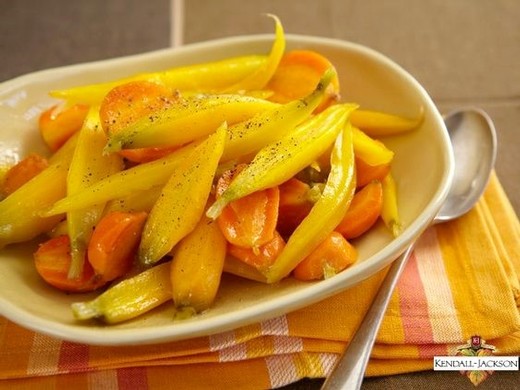 Measurements:
Imperial (US)
Ingredients
2 lbs Large Carrots (rinsed and peeled)
1 cup ANC Verjus
1/2 cup Honey
2 tbsps Unsalted Butter
2 tsps Kosher Salt
1 Cinnamon Stick
1 Bay Leaf
1 Chive Bunch (minced)
Directions
Slice carrots, keeping a consistent ½-inch slice throughout.
Heat a large sauté pan over medium-high heat. Add the verjus, honey, butter, salt, cinnamon, and bay leaf. Whisk to combine.
Bring the glaze to a simmer
Add carrots and stir with a wooden spoon.
Once the mixture returns to a boil, reduce the heat to medium and cook for approximately 12 minutes, stirring often.
The glaze will thicken and reduce while the carrots cook.
Remove pan from heat and sprinkle with chives.