Lemon Chicken and Asparagus Foil Packs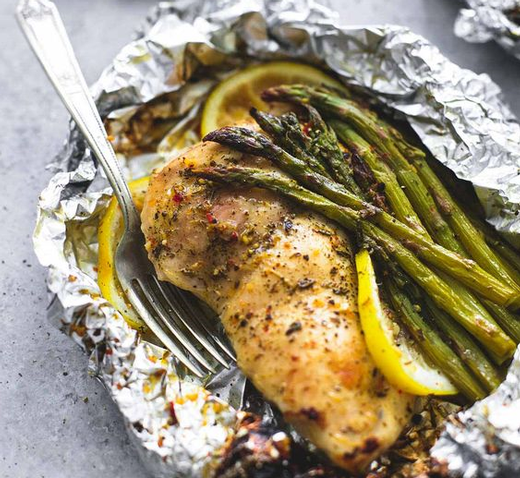 Measurements:
Imperial (US)
Simple lemon chicken & asparagus foil packs are an easy and incredibly delicious 30-minute meal you can either grill, or bake any time of the year.
Ingredients
4 Boneless Skinless Chicken Breasts pounded to even thickness, OR 6-8 Boneless Skinless Chicken Thighs
1 Lg bundle Asparagus Spears (about 1lb)
1 Lemon, divided
1 tsp Garlic, minced
3 tbsps Butter, melted
1 1/2 tsps Italian Seasoning
Salt and Pepper to taste
Directions
Lay four 12x12 inch squares of foil out on a flat surface. Place one chicken breasts (or 1-2 thighs) in the middle of each piece of foil.
Trim the flat end of the asparagus at 1-2 inches from the end and discard. Cut the remaining spears in half and divided them between the foil packs.
Thinly slice one of the lemons and divide the slices between the foil packs, tucking the slices in, around, and between the chicken and asparagus.
Stir together butter, garlic, juice of the remaining lemon, and Italian seasoning. Brush over chicken and asparagus. Sprinkle with salt and pepper to taste.
Fold the foil over the chicken and asparagus to close off the pack, pinch the ends together so the pack stays closed.
Grill over medium-high heat for 7-9 minutes on each side OR bake at 400 for 15-20 minutes or until chicken is cooked through and asparagus is tender. Serve immediately.
NOTES: Chicken thighs tend to be smaller than most chicken breasts so if you are going to use thighs, use 1-2 depending on the size of the thigh - for smaller, you'll probably want two in a single foil pack, if they are larger you could get away with using one in a foil pack. Just remember each pack is for one person so you want as much chicken as will fill that person!
Recipe courtesy of Le Crème de la Crumb