Grilled Asparagus and Prosciutto Cobb Salad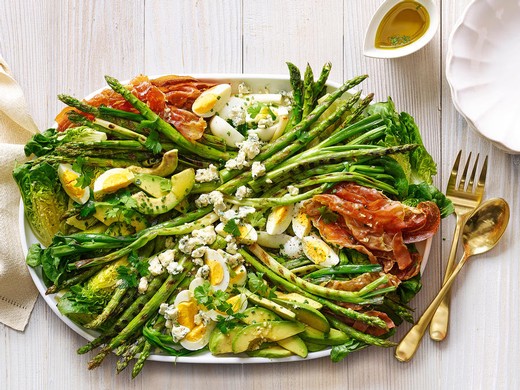 Measurements:
Imperial (US)
In this fresh take on the classic Cobb, a little smoky char adds depth to asparagus and green onions, and the grill turns prosciutto into crisp shards. Choose large asparagus so they won't fall through the grates.
Ingredients
6 Lg Eggs
1/3 cup Extra Virgin Olive Oil
1 1/2 tbsps Extra Virgin Olive Oil
2 1/2 tbsps White Wine Vinegar
1/2 tsp Dijon Mustard
1 tsp Kosher Salt
3/4 tsp Freshly Ground Black Pepper
1 Lg Garlic Clove, finely chopped
1 1/2 tbsps Chives, finely chopped
1 1/2 tbsps Parsley, finely chopped
2 lbs Lg Asparagus, ends trimmed
2 Bunches Green Onion, ends trimmed
1 1/3 lbs Sm Lettuces (Little Gem)
5 1/2 ozs Prosciutto, thinly sliced
2 Avocados, sliced
6 ozs Blue Cheese, crumbled (sharp but creamy)
Directions
Hard-cook eggs, then cool, peel, and quarter. Meanwhile, whisk together 1/3 cup oil, the vinegar, mustard, 3/4 tsp. salt, 1/2 tsp. pepper, the garlic, chives, and parsley; set dressing aside.
Put asparagus at one end of a large rimmed baking sheet and green onions at other end. Toss asparagus with 1 tbsp. oil and 1/4 tsp. each salt and pepper. Toss onions with remaining 1/2 tbsp. oil and a sprinkle of salt and pepper.
Trim bases from lettuces and halve or quarter lettuces if large. Arrange in a bed on a large platter and set aside.
Heat a grill to medium-high (about 450°). Lay cold prosciutto slices on two sheets of parchment paper, separated; then stack on a rimmed baking sheet.
Carefully flip prosciutto sheets meat down onto grill. Pull off paper with tongs. (For a charcoal grill, cook one batch at a time and move from center of fire if meat starts browning too fast.) Grill prosciutto covered, turning once, until mostly crisp, about 2 minutes. Transfer to baking sheet; set aside.
Grill asparagus and green onions, covered, turning once, until charred and tender, 4 to 6 minutes. Transfer to baking sheet.
Arrange asparagus, green onions, prosciutto, avocados, eggs, and cheese over lettuce. Drizzle with some of reserved dressing and serve the rest on the side.
Recipe courtesy of Sunset
Photo: Jeffery Cross