Deep-Dish Ham Quiche with Herb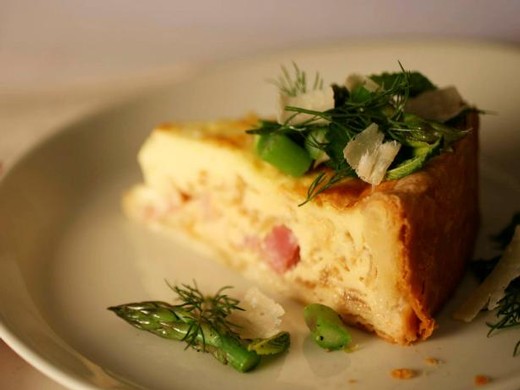 Measurements:
Imperial (US)
Ingredients
2 cups All-Purpose Flour, plus more for dusting
1 tsp Salt
1/4 tsp Sugar
3/4 cup Unsalted Butter, cold and cut into small cubes
1 Lg Egg Yolk
3 tbsps Ice Water, plus more as needed
3 tbsps Extra-Virgin Olive Oil
2 Lg Onions, sliced
3/4 lb Smoked Ham, cubed
8 Lg Eggs
4 cups Heavy Cream (1 quart)
Kosher Salt & Freshly Ground Black Pepper
Directions
To make the pastry:
Combine the flour, salt, and sugar in a large mixing bowl. Add the butter and mix with a pastry blender or your hands until the mixture resembles coarse crumbs.
Beat the egg yolk and ice water in a small bowl to blend, add it to the pastry. Work it in to bind the dough until it holds together without being too wet or sticky.
Squeeze a small amount together, if it is crumbly, add more ice water, 1 tablespoon at a time.
Form the dough into a disk and wrap in plastic wrap; refrigerate for at least 30 minutes.
Sprinkle the counter and a rolling pin lightly with flour. Roll the dough out into a 14-inch circle about 1/4-inch thick. Carefully roll the dough up onto the pin (this may take a little practice) and lay it inside a 9-inch springform pan. Press the dough firmly into the bottom and sides so it fits tightly; trim the excess dough around the rim. Place the pan on a sturdy cookie sheet so it will be easier to move in and out of the oven, this quiche is pretty heavy.
Preheat the oven to 375 degrees F.
To make the filling:
Heat a skillet over medium-low heat, coat the pan with oil, and add the onions.
Slowly cook the onions, stirring, until they caramelize and release their natural sugars. Add a couple of tablespoons of water to help the onions break down, if needed.
Toss in the ham, cook, stirring, for about 10 minutes to get some color on it. Remove from heat.
In a large bowl, beat the eggs until frothy, pour in the cream; season with salt and pepper.
Arrange the caramelized onions and ham over the bottom of the crust and carefully pour in the cream and egg mixture; the filling should be about 1-inch from the top of the pan.
Cover loosely with foil and bake for 1 hour and 30 minutes.
Remove the foil and continue to bake for 15 minutes or until the quiche is set, puffy, and jiggles slightly.
Remove to a wire rack and let cool for 30 minutes.
Loosen the quiche from the sides of the pan by running a thin metal spatula around the inside rim. Carefully unmold the ring, and transfer the quiche (with the bottom base) to a serving plate. Cut it into wedges, drizzle with a little olive oil, and a few turns of freshly ground black pepper.
Recipe courtesy of Tyler Florence