Crab Eggs Benedict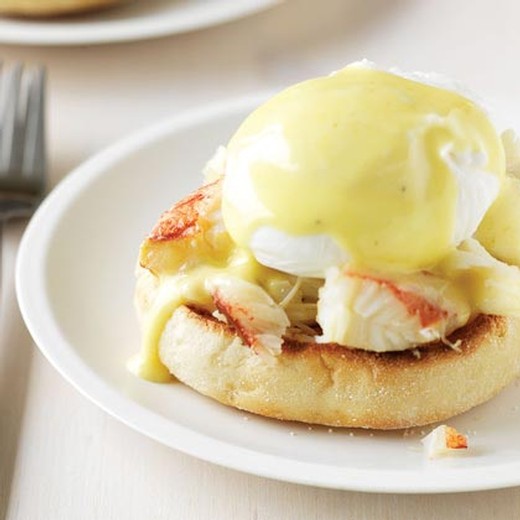 Measurements:
Imperial (US)
Rich and creamy, bright with lemon, this classic brunch dish also makes a great supper when paired with a simple green salad. For an even richer dish, top each muffin half with a few slices of avocado before adding the crab. Suggested Wine Pairing: a2 Rose or Shepherds Mark
Ingredients
6 Lg Egg Yolks
1/4 cup Lemon Juice
2 tbsps Dijon Mustard
1 1/2 cups Melted Unsalted Butter
1/2 tsp Salt
1/8 tsp Freshly Ground Black Pepper
1/8 tsp Cayenne
6 English Muffins
3 cups Dungeness Crab @ room temperature
12 Lg Eggs
Directions
Preheat oven to 450°
Make hollandaise sauce: In the bottom of a double boiler or in a medium saucepan, bring 1 in. of water to a simmer over high heat and adjust heat to maintain simmer. Put egg yolks, lemon juice, and mustard in top of a double boiler or in a round-bottomed medium bowl and set over simmering water. Whisk yolk mixture to blend.
Whisking constantly, add butter in a slow, steady stream (it should take about 90 seconds). Cook sauce, whisking, until it reaches 140°, then adjust heat to maintain temperature (remove from simmering water if necessary). Add salt, pepper, and cayenne and continue whisking until thick, about 3 minutes. Adjust seasonings to taste. Remove from stove and set aside.
Split English muffins and arrange on a baking sheet in a single layer. Bake until toasted, about 5 minutes.
Put 2 muffin halves on each plate and top with crab, dividing evenly.
Poach eggs: Bring 1 in. water to boil in a 12-in.-wide pan. Lower heat so that small bubbles form on the bottom of the pan and break to the surface only occasionally. Crack eggs into water 1 at a time, holding shells close to the water's surface and letting eggs slide out gently. Poach eggs, in 2 batches to keep them from crowding, 3 to 4 minutes for soft-cooked. Lift eggs out with a slotted spoon, pat dry with a paper towel, and place 1 egg on each crab-topped muffin half.
Top each egg with 2 to 3 tbsp. reserved hollandaise sauce and serve hot.
Recipe courtesy of Sunset