Chipotle Lime Steak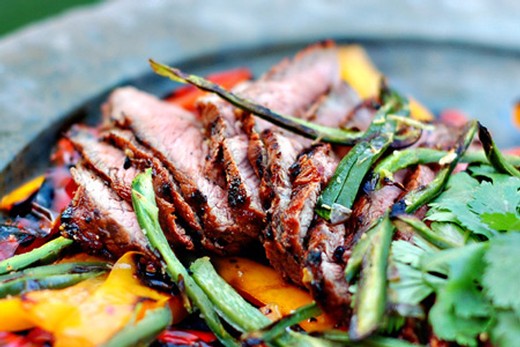 Measurements:
Imperial (US)
There's something magical about the combination of fresh lime, chipotle, and cilantro!
Ingredients
1 Flat Iron (chuck top blade), Flank or Skirt Steak, about 1 1/3 pounds
1 tbsp Tabasco Sauce
1 Garlic, minced (about 3 cloves)
2 tsps Worcestershire Sauce
1 tsp Chili Powder
1 tsp Black Pepper
Juice of One Lime
2 tbsps Olive or Canola Oil
Directions
Combine all of the ingredients except the oil in a gallon zip-top bag and seal, removing all of the excess air.

Slosh the bag, and massage it with your hands to get all of the ingredients combined.

Refrigerate for at least two hours, and up to four hours.

Start your grill and prepare for direct grilling over medium-high heat (400-450º).

Remove the steak from the bag and pat each side dry with paper towels.

Oil each side of the steak lightly with canola oil.

Note: These cooking times are approximate, and they based on a steak that is about 3/4" thick. Your mileage may vary.

Grill the steak until it readily releases from the grate, about three minutes.

Rotate the steak 45º and continue cooking for about two minutes.
Flip the steak over and grill three minutes more.
Rotate the steak 45º and continue cooking for about one more minutes.

Remove the steak to a platter and let rest ten minutes.
Slice across the grain into 1/4" slices.
Recipe courtesy http://www.patiodaddiobbq.com