Beef Braciole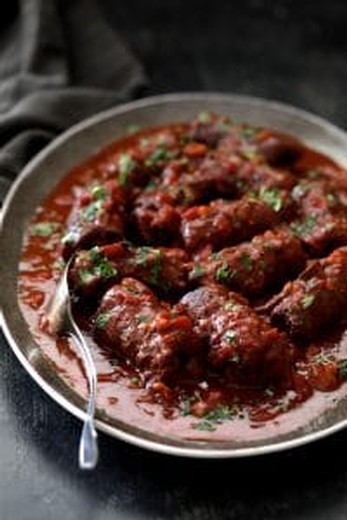 Recipe Date:
August 30, 2022
Measurements:
Imperial (US)
Ingredients
6 thin slices boneless top round (about 2 pounds)
12 cloves garlic
1/2 cup finely chopped Italian parsley (flat leaf parsley), plus more for garnish
1 cup shredded Parmesan or Romano cheese, plus more for serving if desired
2 tbsps seasoned dry breadcrumbs
salt and freshly ground black pepper - to taste
12 thin slices prosciutto
2 tbsps olive oil
2 cups dry red wine
2 cups beef broth
1 can (28-ounce) crushed tomatoes
2 tsps dried Italian seasoning
2 tbsps all-purpose flour
Directions
1. Cut top-round slices in half widthwise so that you have 12 equal pieces. Place beef between two pieces of plastic wrap. Gently pound to 1/4 to 1/8-inch thickness.
2. Mince 4 cloves of garlic; slice the remaining 8 cloves.
3. Combine minced garlic, parsley, cheese, breadcrumbs, salt and black pepper in a small bowl. Place a prosciutto slice over the beef then sprinkle filling evenly over the prosciutto.
4. Roll the beef into a cylinder, tucking in the sides to hold in the filling as you roll. Secure with toothpicks.
5. Heat olive oil in a Dutch oven or large pot over medium-high heat. Place the beef rolls, seam side down in the pot and brown seam side first to seal it. Cook, turning the meat occasionally until each roll is nicely browned on all sides. Transfer to a plate.
6. Add the wine and the sliced garlic. Bring to a boil, scraping up any browned bits. Add beef broth, tomatoes and Italian seasoning. Place beef rolls back in the pot and bring back to a simmer.
7. Cover and cook on low heat, turning occasionally until beef is tender and easily pierced with a fork, about 1 1/2 hours. Alternately, cook covered in a 325-degree oven for 1 1/2-2 hours or in a slow cooker for 3-4hours on high, 5-6 hours on medium or 7-8 hours on low.
8. To thicken, place pot back on the stove if cooked in the oven. Remove some of the hot cooking liquid to a bowl. Add the flour and stir until smooth to create a slurry. Slowly add it to the hot cooking liquid, bring to a slow simmer and cook until thickened.
9. Season with salt and black pepper to taste. Remove toothpicks and serve over pasta with additional grated cheese if desired.