February Release "Sneak Peek" Winemaker Dinner - Woodinville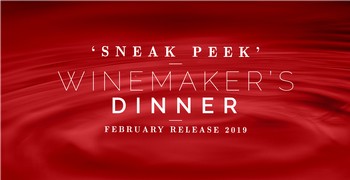 January 31st, 2019 6:30pm - 8:30pm
Heritage Restaurant|Bar
14450 Redmond-Woodinville Rd NE #101b
Woodinville, WA 98072
Tickets $110
Multi-course meal paired with the new unreleased club wines.
Celebrate the New Year by dining with our winemakers with a multi-course dinner in the heart of Woodinville. Taste the new February Wine Club Release wines before anyone else! Take advantage of having the winemaking team to yourself and then have an opportunity to purchase our very popular Members Only (you know it always sells out...fast!) and "Little Big Man" Petit Verdot before they are officially released on February 14th.
Dinner limited to 20 people. Grab your tickets fast!
First Course
House Cured Hudson Valley Duck Prosciutto
Served with Mushroom Jam, Pickled Mustard Seeds and Frisée

Second Course
Braised Pork Shoulder and Potato Gnocchi
Served with Pecorino Cheese, Winter Greens and Fennel Pork Jus

Third Course
30 Day Dry Aged Ribeye
Served with Taleggio Potato Puree, Roasted Baby Carrots, Kale and Red Wine Demi

Fourth Course
Mr. Big's Bomb
Dark Chocolate Bomb Cake
Rick Dark Chocolate Cremeaux, Chocolate Cake, Raspberry and Dark Chocolate Glaze