2014 Rock Star Red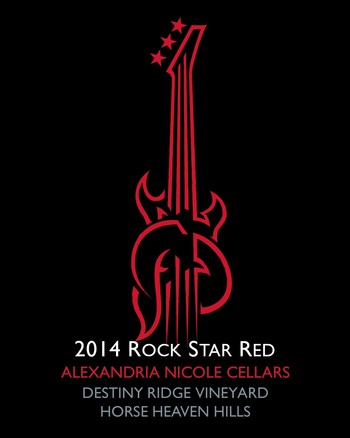 Wine Specs
Appellation
Horse Heaven Hills
Vineyard Designation
Destiny Ridge Vineyard
Aging
Aged 24 months in 40% new French oak barrels and 60% 1-year-old French oak
What happens when a winemaker and some Rockstars of the industry collaborate to create a blend that reflects the best of their individual perspectives? Alexandria Nicole winemaker Jarrod Boyle and the Rock Star Red crew have developed a blend that expresses a fusion of their experiences and tastes.
The 2014 Rockstars
Carrie Silveri – Woodberry Wine "bad-ass"
Therron Phillips – Alexandria Nicole Cellars TR "stud groupie"
Matt Dodson – Assistant Winemaker of Alexandria Nicole Cellars
Ruby Red in color, this wine is truly a Rockstar. Aromas of sweet chocolate, blueberry, and strawberry from the Grenache, blended with the soft and elegance of our Sara Lee Clone Syrah matched with complex nuances of spice and black pepper from our Estate Mourvèdre. This blend always is a stand out and as the label suggest can rock your world. On the Palate there are loads of dark berry, jammy plum with layers of black raspberry, rhubarb and notes of lavender all combine with the fruit-forward nose that fills your senses like the song "Do me baby" by Prince. While aging gracefully isn't something most Rockstars are noted for, this beautiful blend shows age has no limitation and keep you wanting for years to come. The wine is bold enough that it will continue to improve with age and should show well through 2022. If opening prior to 2016, please decant thoroughly.
Wine Specs
Appellation
Horse Heaven Hills
Vineyard Designation
Destiny Ridge Vineyard
Aging
Aged 24 months in 40% new French oak barrels and 60% 1-year-old French oak
Wine Profile
Production
Release Limited to 375 cases
Other Notes
62% Grenache, 34% Syrah, 4% Mourvèdre